Perhaps you're already too advanced in your own career to consider train driving for a living, but have always fancied having a go. You could try doing a Train Driving Experience Course on one of Britain's many Heritage Railways and make Train Driver your hobby. You need to be moderately fit to do these courses and they can cost up to a few hundred pounds, but that may seem a small price to pay to realise a childhood dream. Shop around; you can choose between steam and diesel courses, the diesel ones often being cheaper. Click here to see a full list of links to these lines – you will probably find that many of them do Driver Experience courses. A selection of them are: East Lancs, Severn Valley, Mid-Hants. The Llangollen line has a webpage about the experience courses they run.
I recommend Clive Groome's Footplate Days & Ways courses which are conducted by Clive, an experienced ex-BR steam driver and his colleagues. These are held on the Lavender Line, and the Llangollen Railway.
If you find you like the experience you could join one of these heritage railways as a volunteer in the Locomotive Department. Again, refer to the Heritage Railway list and contact a likely railway near you – they're always looking for new volunteers. You will have to start as a loco cleaner, gain experience and qualify to move up to fireman and eventually on to driver. The key to getting on on these lines is to be a regular attendee, be prepared to get stuck into some dirty jobs and be keen to learn. You may have to undergo a medical examination. Have a look at how to become a steam or diesel driver on the Llangollen Railway.
Click here for films about The Bluebell Railway, Nene Valley International Railway and Salisbury Finale.
Footplate Equipment – 'Recreate the Look' – with John Beesley
---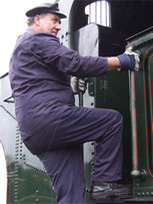 If you become a regular on one of Britain's many heritage lines you'll want to look the part and John Beesley makes this possible with his authentic looking range of caps, jackets, bibs & braces, as well as firing shovels, tea cans, bags and various oil cans and lamps.
His website is here.
---