Traditionally, boys were recruited onto the steam railway at the age of fourteen as engine cleaners with only a basic education. After a year or so of laborious engine cleaning combined with general shed duties, such as assisting the boiler-smiths and fitters, they would be examined and passed out by a locomotive inspector as being fit for firing duties. Now re-classified as Passed Cleaners, from this point on they could be used by the shed foremen as firemen on such workings as local goods trips or yard shunting. Incredible as it now seems, there was no paid, formal training at all. Cleaners taught themselves and attended unpaid Mutual Improvement Classes (MICs) run by experienced drivers and firemen in their own time, often between church and brass band practice on Sunday morning in a driver's front parlour!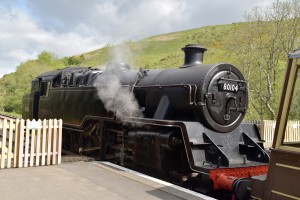 Eventually a cleaner would obtain a full time fireman's appointment, often posted to a depot far from home, beginning the slow progression through the rosters, called links. This would see them starting on shed, local and shunting work, gradually venturing further afield, then onto semi-fast passenger work and long-haul freights before finally getting onto express passenger trains. Promotion through the links and grades was on a rigid system based on length of service or seniority, what is commonly known as 'Buggins' Turn'! To working class men with no formal qualifications their seniority was often the only thing they had to distinguish them from those around them and was jealously guarded. After ten years or so, and still studying in his own time, a fireman would be examined and passed for driving, becoming a Passed Fireman, thereafter being available for the most lowly driving duties, usually shunting or preparation & disposal of locomotives. Finally, perhaps in his late thirties or early forties he would obtain promotion to Driver and begin the long haul through the links all over again, perhaps not becoming a 'top link' express driver until just a few years before retirement.
Around the late '60s – early '70s, with the advent of diesel and electric traction, firemen became Secondmen, or Drivers Assistants as they were re-named once women began to be recruited into the footplate grades. The early '70s also saw BR introduce a formal training course called the MP12, which eventually led to the disappearance of the semi-official and unpaid MICs. Typically, one would join BR straight from school at sixteen and might be a DA for around five years before being sent on the six month long MP12 and being passed out as a Relief Driver. Shortly after, at the age of 21 or 22, promotion would be gained to driver, usually at one of the lowly and unpopular suburban commuter train depots around the big cities with their rather boring and repetitive work. Most would simultaneously register a preference to transfer back to their home depot or to somewhere with a more interesting and varied workload once they had enough seniority behind them to get in.
With the phasing out of double-manning in the nineteen-eighties the Traincrew Concept
was introduced. This saw conductors (and occasionally signallers or station staff) being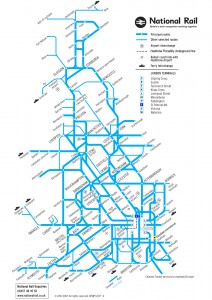 selected for driver training with little or no 'front-end' experience. This was followed by the Sectorisation of BR into InterCity, Network SouthEast, Regional Railways and Railfreight sectors. This led to personnel specialising in driving only certain types of train in more geographically limited areas. For many of the older and experienced drivers the reduction of route coverage and train types they handled damaged the perceived quality and interest of the job. The Traincrew Concept also resulted in a sharp rise in the age at which people became drivers, from their early twenties to more like their thirties and forties due to the sudden eligibility of large numbers of older conductors.
The further division of BR into some thirty Train Operating Companies (TOCs), which were subsequently franchised or sold to private firms, has further reduced the scope of train driving. The advent of privatisation saw the route of promotion to driver initially concentrated on conductors and there became little chance of other grades obtaining driving positions. A few companies, notably Virgin, experimented with recruiting trainee train drivers from outside the industry (off the street and boil-in-the-bag drivers are the contemptuous terms used by existing train crew) in the hope that such people would not be encumbered by the perceived baggage of old railway attitudes as certain managers chose to see it. On the one hand such candidates lack a feel for the industry, its peculiar ways of working and are completely inexperienced; on the other I can testify that they have a better attitude, are eager to learn and seem to be easier to train. Another big difference is that they value their job more as they are not approaching it with the sense of entitlement that often went with the old promotional systems. Despite mixed results it seems that this will become an increasingly common route for selecting new drivers. It's strange that in the space of thirty years we went from a situation where new drivers were highly experienced but had no formal training to one where we have formal training but the newbie can have almost no experience; the first time they have to deal with an out-of-course situation is as the driver in charge!
So, you have two main alternative routes to becoming a train driver today. Either do a few years as a conductor (Train Person with the freight companies – a sort of shunter-come-DA) or come to it in later life as a second career. We now have quite a number of drivers who have joined after careers as bankers, journalists, solicitors, teachers or from the military or medical professions. The military, especially ex-NCOs seem to be especially favoured. My opinion is that this latter arrangement will become the norm and that train driving will be a job people come to more in maturity than youth. This is changing the social make-up of the profession as it becomes better educated, more widely experienced and more middle-class. If you are thinking of becoming a Conductor, whether as a long term career as a staging post to becoming a Driver, there is a website offering advice at Becoming a Conductor.

Much of the training infrastructure that existed under BR was wrecked in the hiatus of privatisation. This, combined with new managers' (often from the bus industry) under-estimation of what is involved in the job, led to a national shortage of drivers in the late 'nineties. This shortage, combined with the multiplicity of companies, introduced market forces into the job for the first time and saw pay rates rocket from a basic of £11,500 at the end of BR to anywhere between £39,000 and £75,000 today, depending on the company. The average salary is £54,000 (August 2022). That rise isn't really as large as it looks, partly because BR is now a long time ago, and partly because today's basic pay rates include many payments which were bonuses and enhancements under BR. Even so, if taming the unions was a principal objective it has to count as a spectacular political own-goal for the Conservative Party. Market forces in the new structure are far more effective at raising pay than going on strike when you work for a national monopoly. It has also introduced the phenomenon of drivers switching employers to gain better rates and conditions or to move to a location which suits them. This puts further pressure on the employers as they struggle to retain their expensively trained drivers.